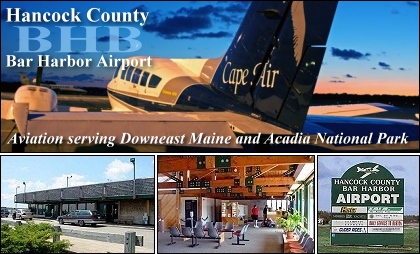 BHB is conveniently located half way between the city of Ellsworth and the town of Bar Harbor. With over 10,000 feet of shorefront and the prominence of Cadillac Mountain in the background, the airport offers spectacular views. The recreational possibilities within a short distance of the airport at Acadia National Park are almost unlimited. An instrument landing system and a full service FBO combine to make Hancock County-Bar Harbor Airport a safe and enjoyable year-round airport for the airline passenger, general aviation pilot, private charter passenger and everything in between.
Free Vehicle Parking
for up to 60 days

Visit the Parking page for full details
---

Providing scheduled service between Boston and Bar Harbor daily from Memorial Day through Labor Day.
Book your tickets now at www.penair.com or by phone toll free 1-800-448-4226

You may also book through your travel agent or an online travel agency. Proud codeshare partner with Alaska Airlines.

Book your tickets now between BHB and Boston and beyond! Cape Air partners with Jet Blue to provide excellent service to Boston and beyond! On the web: www.capeair.com or call: 1-866-CAPE-AIR



Now book your tickets on JetBlue from BHB!
---

Hancock County - Bar Harbor Airport has prepared this Emergency Contingency Plan pursuant to §42301 of the FAA Modernization and Reform Act of 2012. Questions regarding this plan can be directed to the airport manager, Brad Madeira through the contact section of this webpage.