---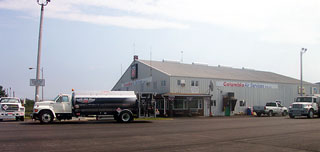 Columbia Air Services, based at the Groton-New London Airport, Groton, Connecticut, is a full service FBO, specializing in the sales, service, charter and management of jet, turboprop, and piston powered aircraft. The Columbia Family of Companies employs seventy-five full time employees, and has been in operation since 1980. The company also offers complete airframe, power plant and avionics services. With exclusive rights for the SJ30-2 business jet, the Socata TBM-700 turbo prop, and the complete line of New Piper Aircraft products.

Columbia Air Services-BHB, L.L.C., (BHB)
Columbia Air Services Website
Hancock County Bar Harbor Airport, 112 Caruso Drive, Trenton, ME
Fuel Services / Main Office (207) 667-5534, Fax: (207) 667-4222, Toll Free: (888) 756-8648 bhbfuel@columbiaairservices.com

---
ALWAYS CONSULT NOTAM's FOR CURRENT INFORMATION


Airfield Elevation: 84' Sectional Chart: HALIFAX
RUNWAY INFORMATION
RUNWAY 4/22
RUNWAY 17/35
Length
5,200'
3,364
Width
100'
75'
Marking
NPI / PIR
BSC / BSC
LIGHTING
Edge
High Intensity
N/A
VASI
Y/Y
N/A
REIL
Y/N
N/A
Threshold
N/Y
N/A
Approach Lights (MALSF)
N/Y
N/A
FREQUENCIES
CTAF 123.0
ILS / DME 108.3
Pilot Control Lighting 122.7
AWOS 118.350 Telephone 207-667-7364
Columbia air inc. frequency is 131.400


Click here for enlargement.


Click here for enlargement.